SG 4D is an app to checking Singapore Pool's 4D lottery results.
One year ago, SG 4D for iPhone was released. Since then, it has remained as a Top 100 app in Singapore App Store! Looks like this simple 4 digits game will always be popular among Singaporean 8-)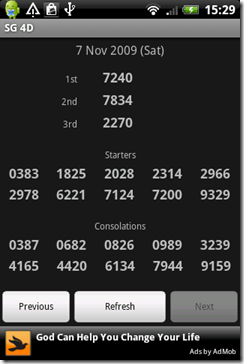 With Android rise in popularity, SG 4D is developed and made available for all Android-powered devices. The application can be downloaded from here or using the QR code below (with barcode scanner).
---
---