Google+ is a new social network application that Google has recently introduced.
It is like both Facebook and twitter, yet even more awesome.
With killer features such as hangout, where several friends can join a VIDEO chatroom, and even watch youtube together! You never need to have physical hangout with Google+ hangout.. Very nerdy yet awesome feature!
Problem
No doubt Google+ is one of the most awesome thing on the Internet now.
But the problem is that it is released in its very early stage, so only those who are invited can try it out. And although Google+ users can invite ~300 friends, the invite mechanism was shut down due to insane demand..
Solution
The good news is, there is a workaround to getting the invites (:
You still can be invited to Google+ by an existing user. The existing user has to do these:
Post something in his steam.
Add the email of the friend to invite.
Share
The invited friend will receive an email asking them to sign up to Google+
A screenshot of how I invite [email protected] to Google+ in my stream.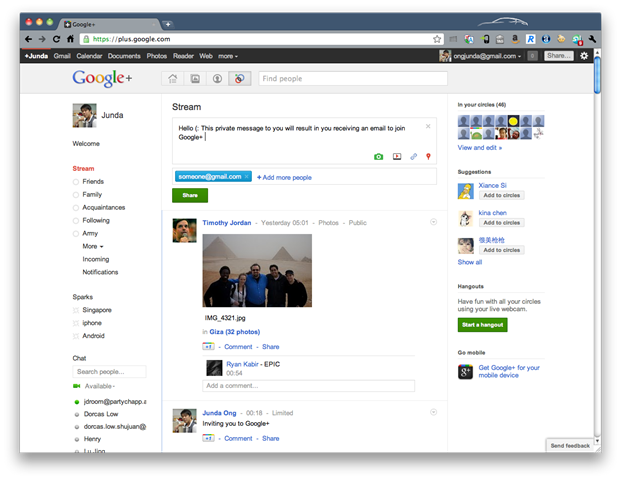 Where to find an existing user to help?
If you need an existing user to perform the above invitation workaround, I can help.
Just leave a comment below with your email.
Update: If you did not receive an email from Google+, do not panic. Wait for another day, or two. They should arrive..
Tips: To increase your chances of being successfully invited by Google, you should  create a google profile with your gmail, and +1 something.
For example, +1 this post!
---
---