As you might know, Just2us.com (and others) are hosted on a shared server, running on WordPress. Over the last few weeks, if you have come to the website and see an account suspended page, it is because my (then) webhost – JustHost – suspended my account! This caused one week of downtime as I decide to leave and condemn JustHost.
I am describing my worst nightmare with JustHost, hoping if you are contemplating to sign up with JustHost or others, think carefully.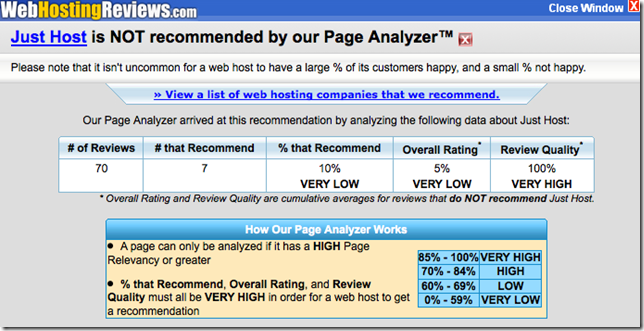 Summary of my experience
Jan 2009 – Chose JustHost as my webhost. Created various websites and services.
Feb 2009 – Website selected as top 10 by JustHost's CEO (a scam..)
Sep 2009 – Account suspended. Unsuspended after 1 day.
Oct 2009 – Account suspended for the second time. Decided to leave them.
Oct 2009 – Migrated to another webhost, and all websites resumed service, after 1 week of downtime.
Why I chose JustHost?
I chose JustHost because it is cheap. There are many companies providing webhosting solution, and at $3.45 per month, the cheapest plan among others and still boosting a lot of 'unlimited', I was lured to JustHost.
And since I have an affinity with the word 'just' (see Just2us.com, Just2me.com), I thought JustHost is good. It is not.
My website is Top 10 – A scam!
One week after I signed up, I received an email from their Product Director, informing me that my website is one of their 50 picks for the month. He will be presenting to his CEO, who will choose 10 of the best, and offer the website owners an exclusive platinum service! I was elated at first, as I did have a beautiful website I am proud of.
Then came the CEO's email that my website is chosen as the top 10. When I am given the platinum link, I felt a scam. http://www.justhost.com/[email protected]? If you click on the link right now, you can sign up for the platinum service too! This is a despicable, cheap and stupid.
What else is bad?
JustHost is average or bad in most areas.
Web Speed is slow

FTP Speed is very slow – Navigating, downloading and uploading via FTP is painfully slow. It is about 5 KB per sec for upload.

Featureless DNS – I registered 3 domains with them. It was a bad decision as they do not provide Total DNS, like what

Godaddy

offered.
First Suspension
One fine morning, I woke up realizing that all my websites and services are down. There is no prior warning or whatso. All I found is an email telling me I have violated their '10% CPU Policy' and quoting me the 3 most intensive processes.
This is amazing bullshit, as my google analytics tells me that there is no more than 100 views a day for the index page, which they quoted to have used 24% of the CPU! There is no surge of activity that day too, which me believe their case in suspension is to make me upgrade to a dedicated server – that would cause $140 per month!
I emailed to say I would not upgrade, and they unsuspended me.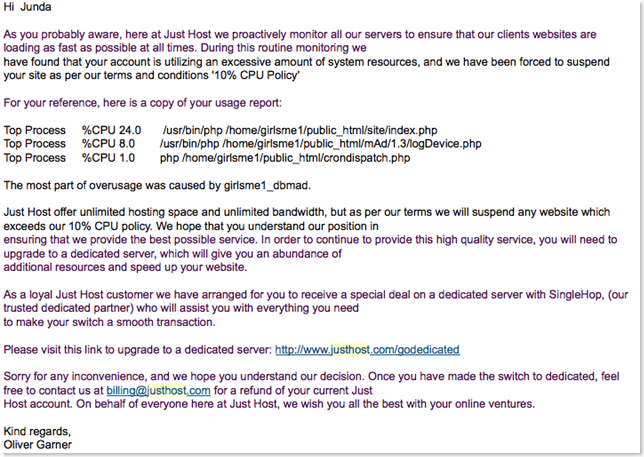 Second Suspension
Two weeks later, I woke up in the middle of the night and found my websites and services are down, again! They emailed me quite the same thing.
I decided I cannot live with such poor webhost and told them I will leave.
I asked for my account to be unsuspended for 1 week as I migrate to another webhost, but they have the we-cant-help-you reply for second suspension. They told me that I would get my refund and backup..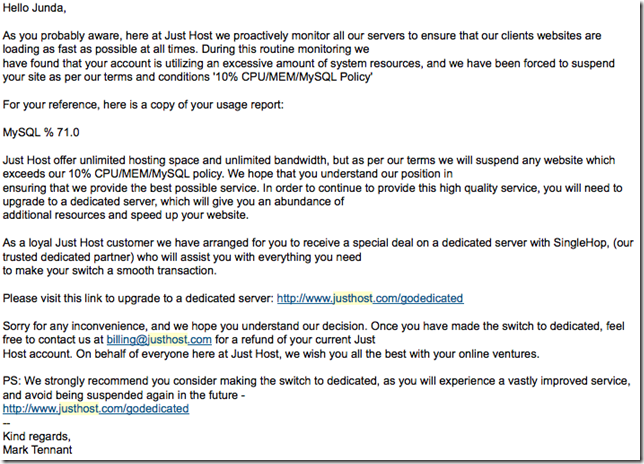 Refund
JustHost refund system either has a problem, or they don't want you to leave them. The refund process consists of 5 steps, which somehow would bring me to the first step again and again. I tried 5 times before getting to the refund confirmation. And they still they tried to persuade me to stay with cheap offers..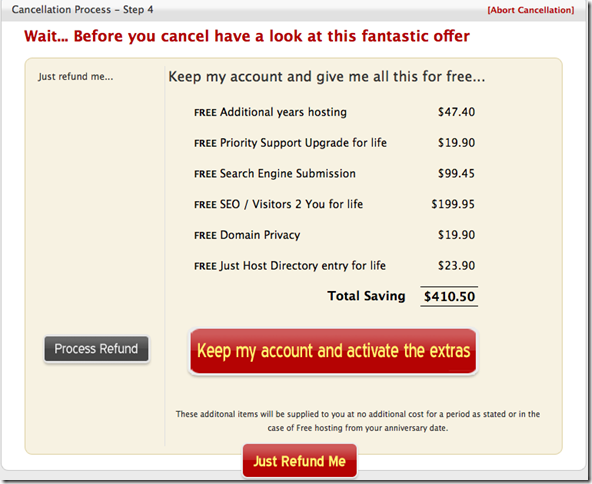 The refund I have got: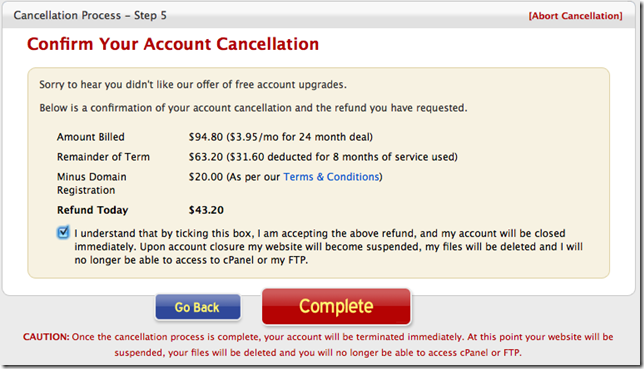 Migration and review
I have migrated to a better webhost – HostGator. I have signed up for a baby plan at $7.95 per month. HostGator is helpful in my migration process and everything works within a day.
In selecting for a new webhost, I read reviews carefully this time. I was surprised that I had made such a bad decision in choosing JustHost 8 months ago.. Read the reviews and you should be convinced that everyone hates JustHost. It has a 5% overall rating and a lot of bad reviews! HostGator has 95%, and even Godaddy has 75%..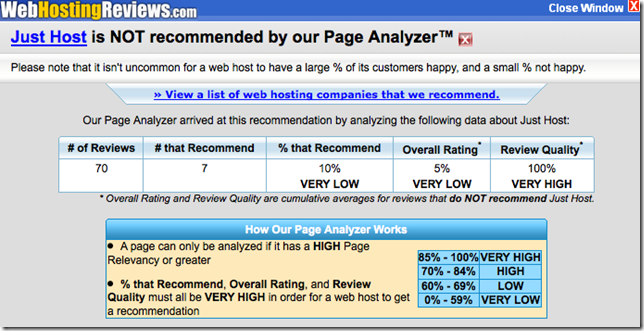 There are more to migrating between webhosts and transferring domains, which I would share next time.
Conclusion
JustHost is a big lie, a scam and the worst webhost.
---
---